Pleasant surprises of a coffee shop connoisseur in Seoul
Pleasant surprises of a coffee shop connoisseur in Seoul
by Michael Jones, Seoul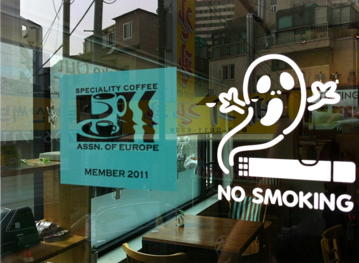 I'm a coffee shop connoisseur. At least I like to think I am. Since moving 10 years ago from British Columbia, Canada, I've been searching for the perfect little place to sip coffee, read a book and if possible impress a date. In Korea, finding such a place has been a long time coming. During my first year here, I'll never forget the difficulty of searching to locate coffee that wasn't pre-packaged and instant.

If globalization has benefits, it is that young Korean entrepreneurs have taken flight from their native land and have drunk deeply from the cultures around the planet. Soon Nam Lee and her husband Won Min both spent several years frolicking around the cafes of Europe sipping and searching for ideas to adopt and bring home. Their overseas adventures culminated in professional barista training from the Specialty Coffee Association of Europe. The vision they returned to Korea with is the subject of this piece.

Upon entering, I was warmly welcomed. I ordered a latte and asked if I might snap some photos. After explaining that I was reporting for a online "forum", Soon Nam whipped up one of her specialties. Before me in a beautifully designed espresso cup, she placed her version of caffe con panna.

Caffe con panna (pronounced 'panya') is made by adding a cold drop of fresh whipped cream into hot espresso. Sipping the soft cool cream surrounded by hot coffee sent my senses into a whirl. It tasted like a frozen treat wrapped in a warm chocolatey bed, and was positively delightful.

Soon Nam and her husband have built a brilliant little shop. Its filled with the sorts of tiny features that suggest a careful attention to detail.

They have made it their mission to pass on the beauty of European coffee culture to their Korean fellows. Once a month they teach coffee roasting classes and offer monthly tastings. According to Soon Nam, the tastings are always very popular. She recommended that I sign up. She explained that it would make a great date. I agreed.

I love little surprises. Discovering The Republic of Coffee made my day.

People say we should experience something new each and every day. I think that is excellent advice. Sitting and enjoying The Republic of Coffee has provided me with just that: the taste of something new and a unique idea for a romantic evening.
Pleasant surprises of a coffee shop connoisseur in Seoul